Samsung 28L Solo Microwave Oven with Healthy Steam | MS28F303TFK/SM
Samsung 28L Solo Microwave Oven with Healthy Steam | MS28F303TFK/SM
Member Price: RM411.00
RCP: RM499.00
Brand:
SAMSUNG
Product Code:
MS28F303TFK/SM
Availability:
In Stock
Product Enquiry
FEATURES
Ceramic Enamel Cavity: Easy to clean, anti bacterial protection, hygienic and durable interior
Healthy Steam Function with Power Steam Bowl: Healthy and nutritious food preparation
Healthy Cooking Function: Up to 16 recipes are programmed for your convenience
Save Money with ECO Mode
Cooked to Perfection
Taste Favorite Traditional Recipes
---
OVERVIEW
Cooking from Fresh Ingredients Made Simple
Replace ready-to-heat convenience foods with healthy homemade meals thanks to the SamsungF300G microwave oven. With 20 pre-set cooking modes, you can prepare fresh food in minutes.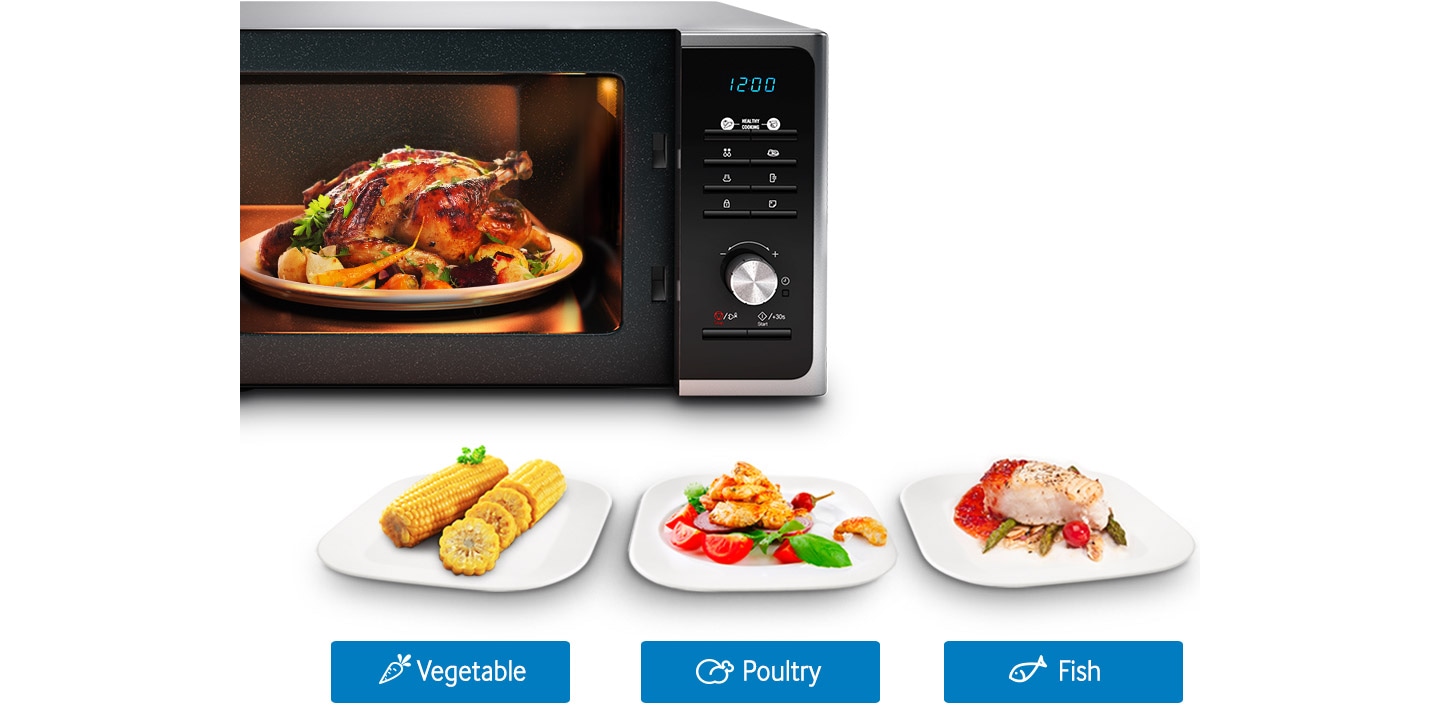 Enhance Your Kitchen Look
Enhance your kitchen with the stylish F300G microwave oven, featuring a black glass front encased in hairline pattern exterior with matching handle and a crystal blue display and detailed silver dial.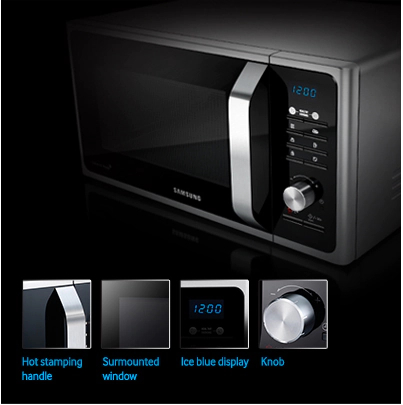 Keep It Clean with Ceramic
The F300G microwave oven features a smooth ceramic interior that is easy to clean and won't scratch or discolor over time. The anti-bacterial and scratch-resistant interior is made to last.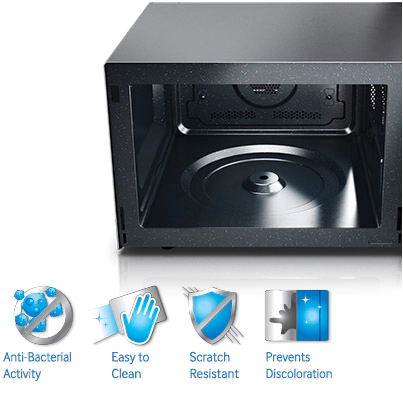 Save Money with ECO Mode
The ECO Mode setting on the new Samsung F300G offers the lowest standby power consumption, significantly reducing power usage to save on energy bills.

Cooked to Perfection
Achieve perfectly cooked dishes every time thanks to the Triple Distribution System - microwaves are delivered via three slots in the oven cavity for broader coverage and more accurate heat distribution.

Taste Favorite Traditional Recipes
Choose from a wide variety of pre-programmed local recipes on the Samsung F300G microwave oven and enjoy familiar flavors with the simple touch of a button.

---
SPECIFICATIONS
Type
Product Type: Solo
Installation Type: Freestanding
Capacity
Oven Capacity: 28L (1.0 Cu.ft)
Materials/Finishes
Color(Door): Black
Color(Cabinet): Black
Control Method: Tact+Dial
Door Type: Side Swing with Handle
Cavity Material: Ceramic Enamel
Turntable Size: 318 mm
Display Type: LED (Ice Blue)
Power/Ratings
Power Source: 240V / 50Hz
Output Power (Microwave): 1000 W
Power Consumption (Microwave): 1500 W
Power Level: 7
Features
Clock: Yes
30 sec. Plus: Yes
Eco Mode: Yes
Defrost (Auto / Power / Sensor): Power
Sensor Cook: No
Steam Cook: Yes
Auto Steam Cook: No
Auto Programs: Yes
Auto Cook: Yes
Keep Warm: No
Steam Clean: No
Turntable On/Off: Yes
Deodorization: Yes
Child Safety Lock: Yes
Kitchen Timer: No
Memory: No
Sound on/off: Yes
Language Option: No
Others: Healthy Cooking
Accessories
Power Steam Bowl: Yes
Quick Guide Label: Yes
Weights/Dimensions
Cavity (WxHxD): 357 x 255 x 357 mm
Outside (WxHxD): 517 x 297 x 428 mm
Shipping (WxHxD): 573 X 365 X 469 mm
Weight (Net): 15.0 kg
Weight (Shipping): 17.0 kg
Loading Quantity (20/40ft): 288 / 600
Smart
Basic Information
Manufacturer / Importer: Samsung Electronics Co.,Ltd.
Product Origin: Malaysia
Packing Case: Eco(Image)
Cooking
Cooking Categories
Microwave Oven