Samsung 340L Top Mount Freezer with Mono Cooling | RT29K501JS8/ME
Samsung 340L Top Mount Freezer with Mono Cooling | RT29K501JS8/ME
Member Price: RM1,579.00
RCP: RM1,899.00
Brand:
SAMSUNG
Product Code:
RT29K501JS8/ME
Availability:
In Stock
Product Enquiry
FEATURES
Digital Inverter Technology: Long lasting performance, uses less energy and minimizes noise
High efficiency LED: Clearly see everything insideC
Big Guard: Store big containers of milk and juice in the door
---
OVERVIEW
Works longer more quietly & uses less energy
Digital Inverter Technology automatically adjusts the compressor speed in response to cooling demand across 7 levels. It uses less energy, minimizes noise and reduces wear and tear for longer-lasting performance.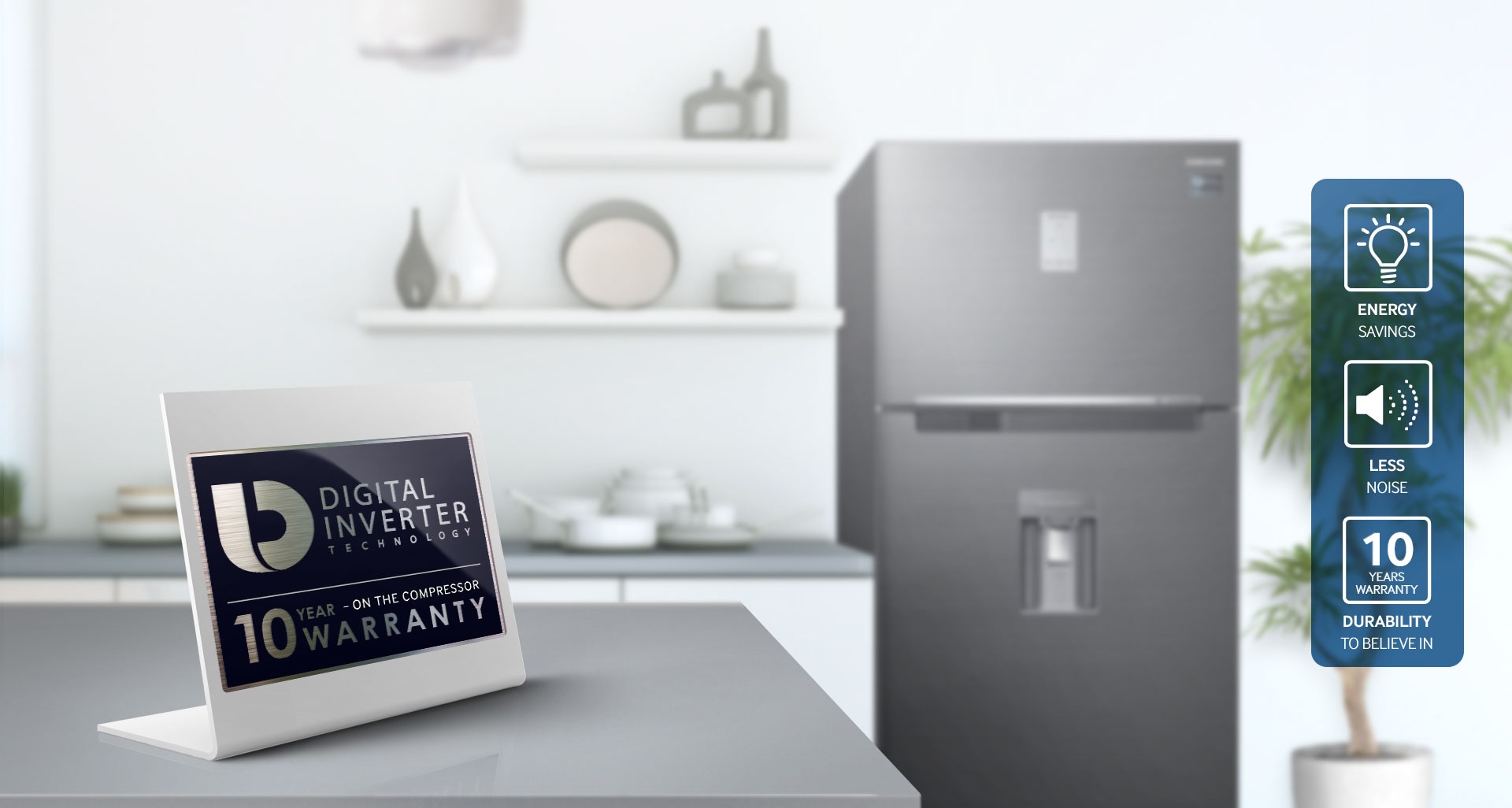 Clearly see everything inside
High efficiency LED lighting is slimmer, cooler and more power-efficient than conventional lighting. Located on the top, it beautifully and brilliantly illuminates every corner, ensuring better visibility.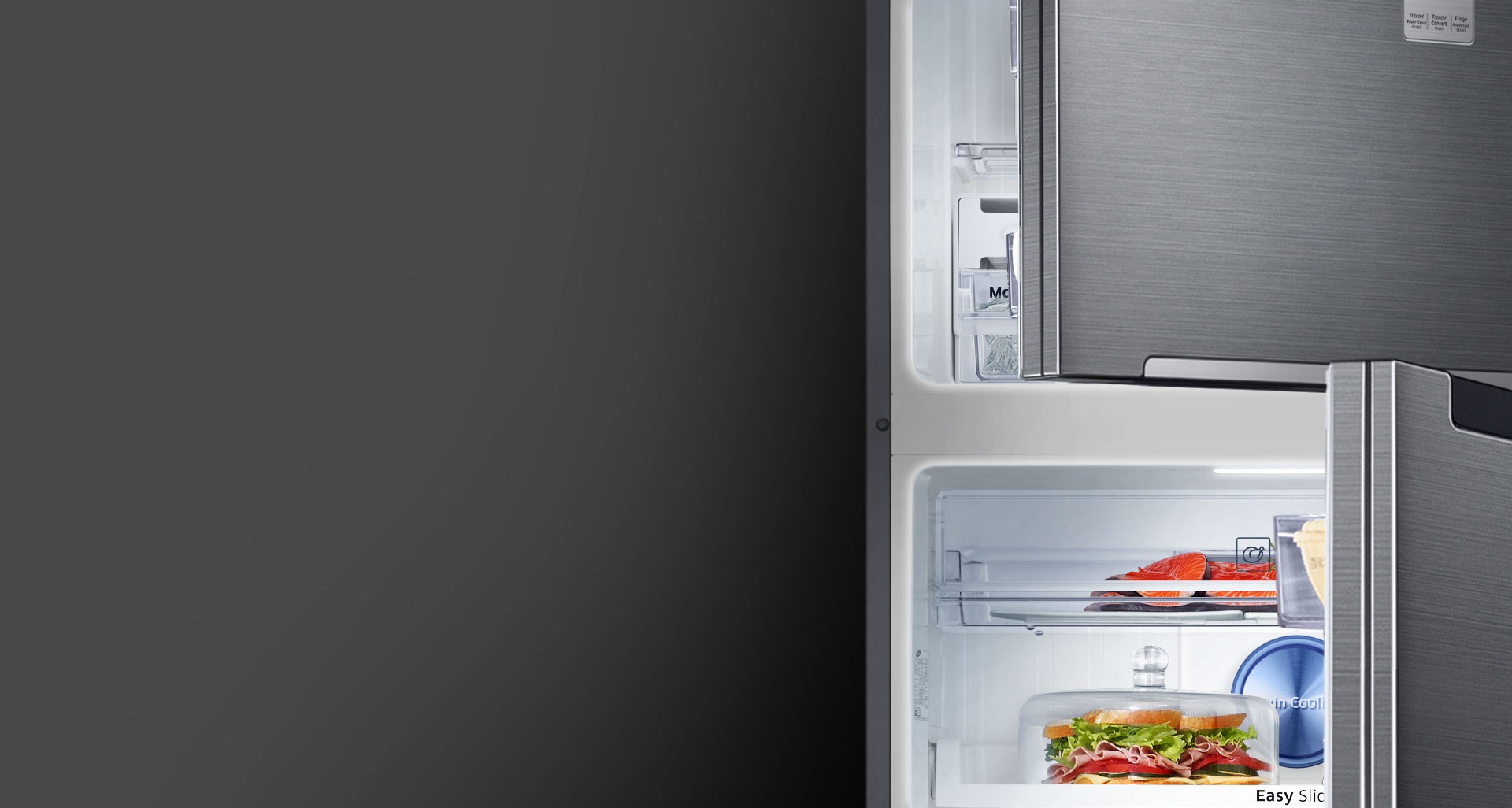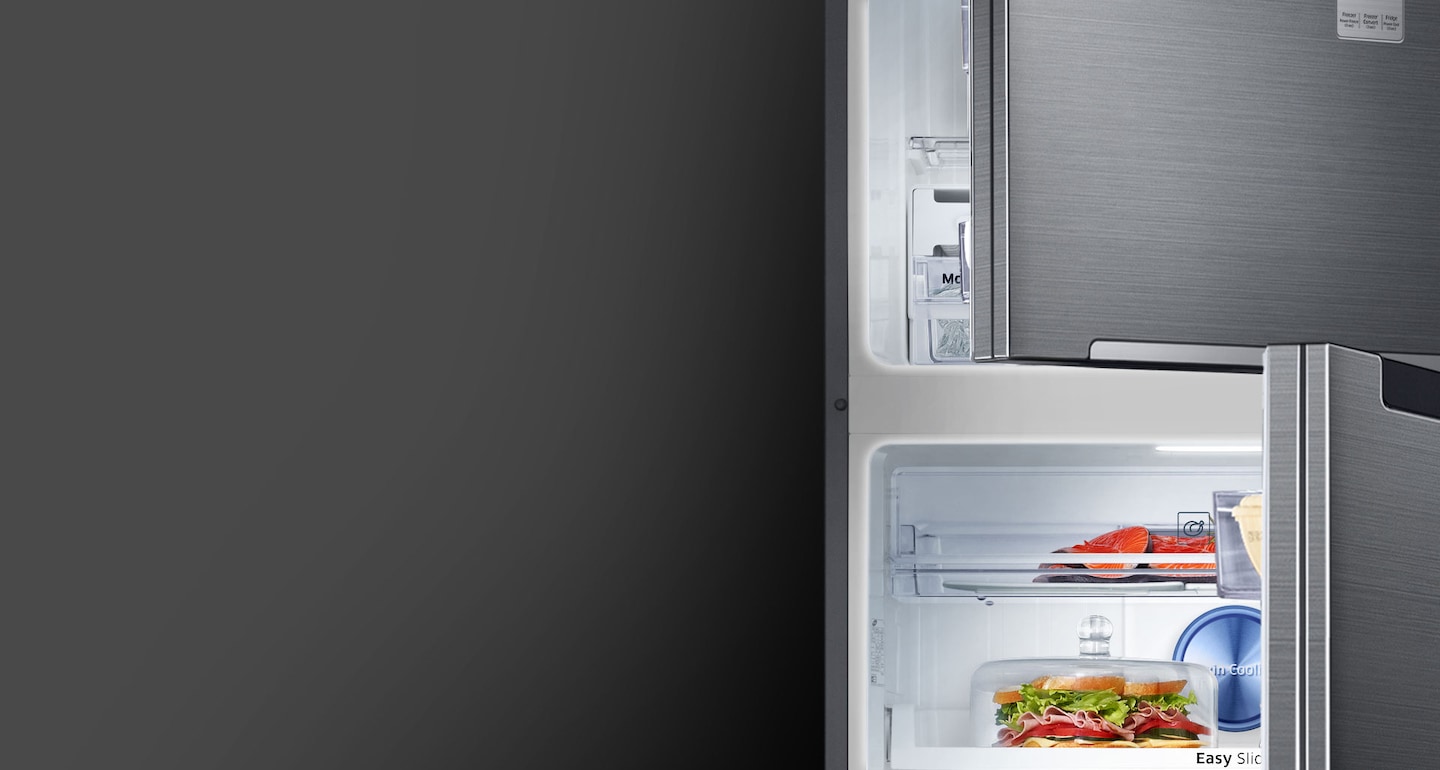 Big Guard
The Big Guard makes you store big containers of milk and juice in the door, along with two rows of beverage cans and bottles. The Big Guard is also great for chilling tall drinks bottles.
Capacity
Net Total (Liter): 302 ℓ
Net for Freezer (Liter): 72 ℓ
Net for Refrigerator(Liter): 230 ℓ
Physical specification
Net Width (mm): 600 mm
Net Case Height with Hinge (mm): 1635 mm 
Net Depth with Door Handle (mm): 672 mm 
Net Depth without Door Handle (mm): 672 mm
Packing Width (mm): 631 mm
Packing Height (mm): 1698 mm
Packing Depth (mm): 699 mm 
Net Weight (kg): 50.5 kg
Packing Weight (kg): 54.5 kg
20/40/40H (Container): 37/74/75
Cooling Feature
Smart Conversion: No
Power Cool Function: No
Power Freeze Function: No
No Frost: Yes
All Around Cooling: Yes
Multi Flow: Yes
Refrigerator Feature
Deodorizer: Yes
Number of Shelf (Total): 3 EA
Shelf Material: Tempered Glass
Number of Vegetable & Fruit Drawer: 1 EA 
Number of Door Pocket: 4 EA
Egg Container (Egg Tray): Yes
Fresh room: No
Interior LED Light: LED 
Big Guards: Yes
Freezer Feature
Ice Maker: Twist
Shelf Material: Plastic
Number of Shelf (Total): 1 EA
Number of Door Pocket: 2 EA
General Feature
Refrigerant: R-600a
Compressor: Digital Inverter Compressor
Exterior Feature
Door Handle: Recess
Colour: Elegant Inox
Water Dispenser: No
FRIDGE
Capacity
300L ~ 399L
Refrigerator
Freezer-On-Top
You May Also Like
Member Price: RM1,489.00
RCP: RM1,799.00
Member Price: RM1,949.00
RCP: RM2,499.00
Member Price: RM2,229.00
RCP: RM2,699.00
Member Price: RM1,019.00
RCP: RM1,470.00
Member Price: RM1,749.00
RCP: RM1,999.00
Member Price: RM1,819.00
RCP: RM2,099.00