Khind 2.6L Air Fryer with High Speed Air Circulation Technology | ARF26
Khind 2.6L Air Fryer with High Speed Air Circulation Technology | ARF26
Member Price: RM159.00
RCP: RM301.00
Brand:
KHIND
Product Code:
ARF26
Availability:
In Stock
Product Enquiry
FEATURES
High Speed Air Circulation Technology for Less Oil & Healthy Cooking.
Adjustable Thermostat Temperature Up to 200ºC with Overheating Protection
Auto Shut Down Heater Switch for Additional Protection.
Detachable Frying Basket for Ease of Cleaning
---
OVERVIEW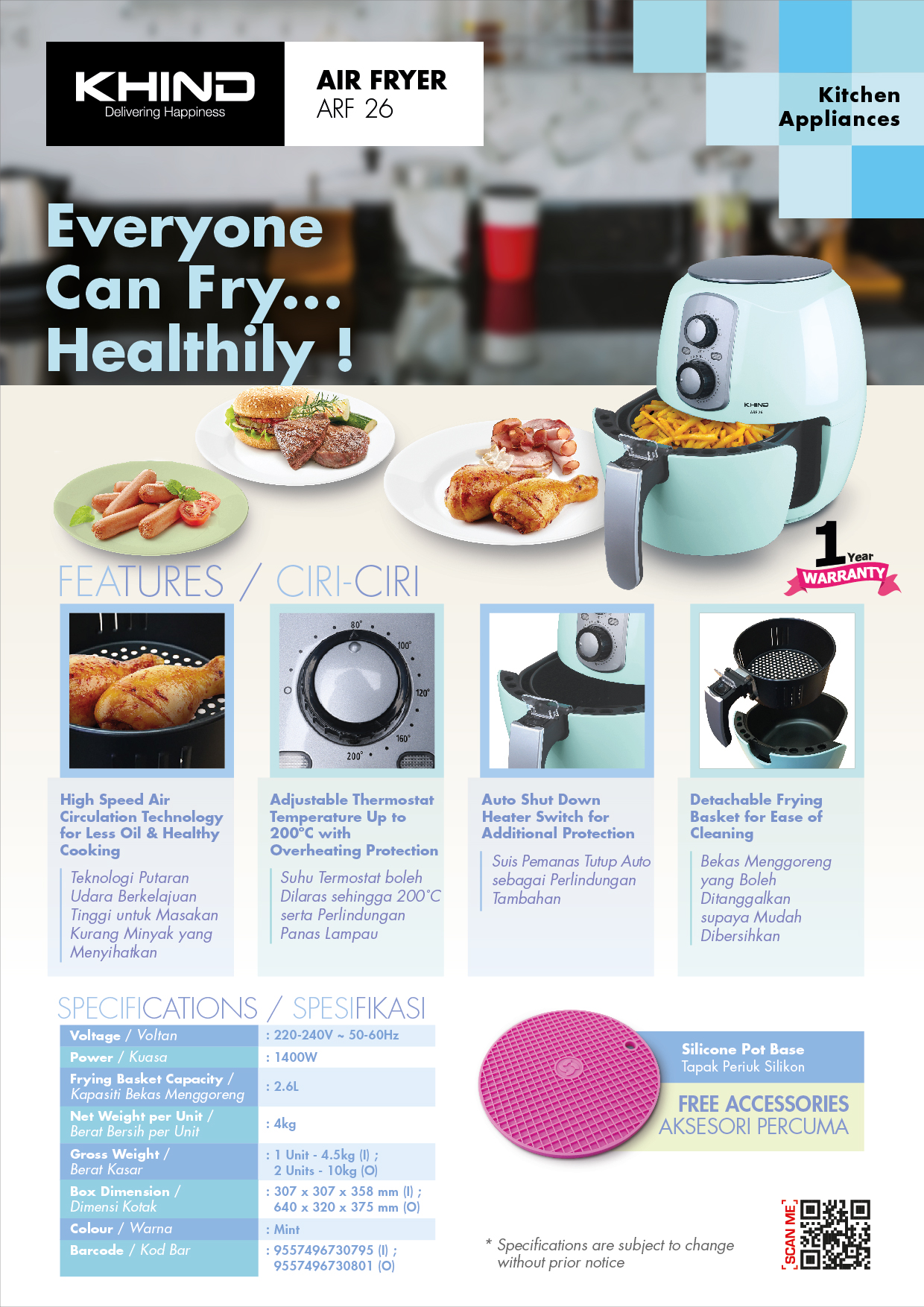 ---
SPECIFICATIONS
Voltage : 220-240V ~50/60Hz
Power : 1200 - 1400W
Frying Basket Max.Capacity : 2.6 Litres
Net Weight : 4 Kg
Gross Weight : 4.5 Kg
Box Dimension : 307 x 307 x 358 mm
Colour : Mint
---
Frequently Asked Questions (FAQ)
Q1. What is the basket material?
A: It is a non-stick coating pan with a stainless-steel grill rack. Thus, it's recommended to clean using hot water, mild detergent and non-abrasive sponge to avoid damages on the non-stick coating.
Q2. Can we use this to steam food?
A: This air fryer is more suitable for frying and can't be used to steam food.
Q3. Do we need to add oil when frying?
A: You don't have to add oil but you can add a little oil to add extra crispiness texture.
Q4. Can it be used for baking?
A: This model is not suitable for baking. But we can suggest you to buy ARF3000, ARF9500 and ARF77 for baking cakes.
Q5. What's the frying basket dimension? (round in shape)
A: The diameter of the frying basket of ARF26 is 19cm or 7.5" and the height is 9cm or 3.5".
Q6. Does the product come together with a recipe book?
A: This product only comes with silicone pad but the recipe book is not included with this model.
Cooking
Cooking Categories
Fryer
You May Also Like
Member Price: RM299.00
RCP: RM484.00
Member Price: RM299.00
RCP: RM370.00
Member Price: RM239.00
RCP: RM379.00