Khind 4-In-1 Multi Blender Chopper | BLC129
Khind 4-In-1 Multi Blender Chopper | BLC129
Member Price: RM129.00
RCP: RM209.00
Brand:
KHIND
Product Code:
BLC129
Availability:
In Stock
Product Enquiry
FEATURES
Interchangeable Accessories for Multi Meal Preparation
Powerful Motor &
Pulse Switch for Convenient Food Preparation
Rust Free SUS304 Stainless Steel Double Blades for Effective Food Processing
With Safety Switch for Safe Blending Operation
BPA Free
---
Q&A
1. Can use to blend ice cubes?
Yes,this can blend ice cubes but the outcome will be rougher just like the Ice Kacang (ice cube).
2. Can this product grind food items,such as ikan bilis,nuts,coffee beans?
Yes,this product comes with a free grinder that can grind dried food into powder.
3. The material of chopper bowl of BLC129?
The material of chopper bowl of BLC129 is made up of plastic and it's heat resistant.
---
Suitable For
BLENDING : Juice,Smoothie 
CHOPPING : Meat,Vegetables
GRINDING : Nuts,Coffee Beans
JUICING : Citrus Fruits,Lemons
---
OVERVIEW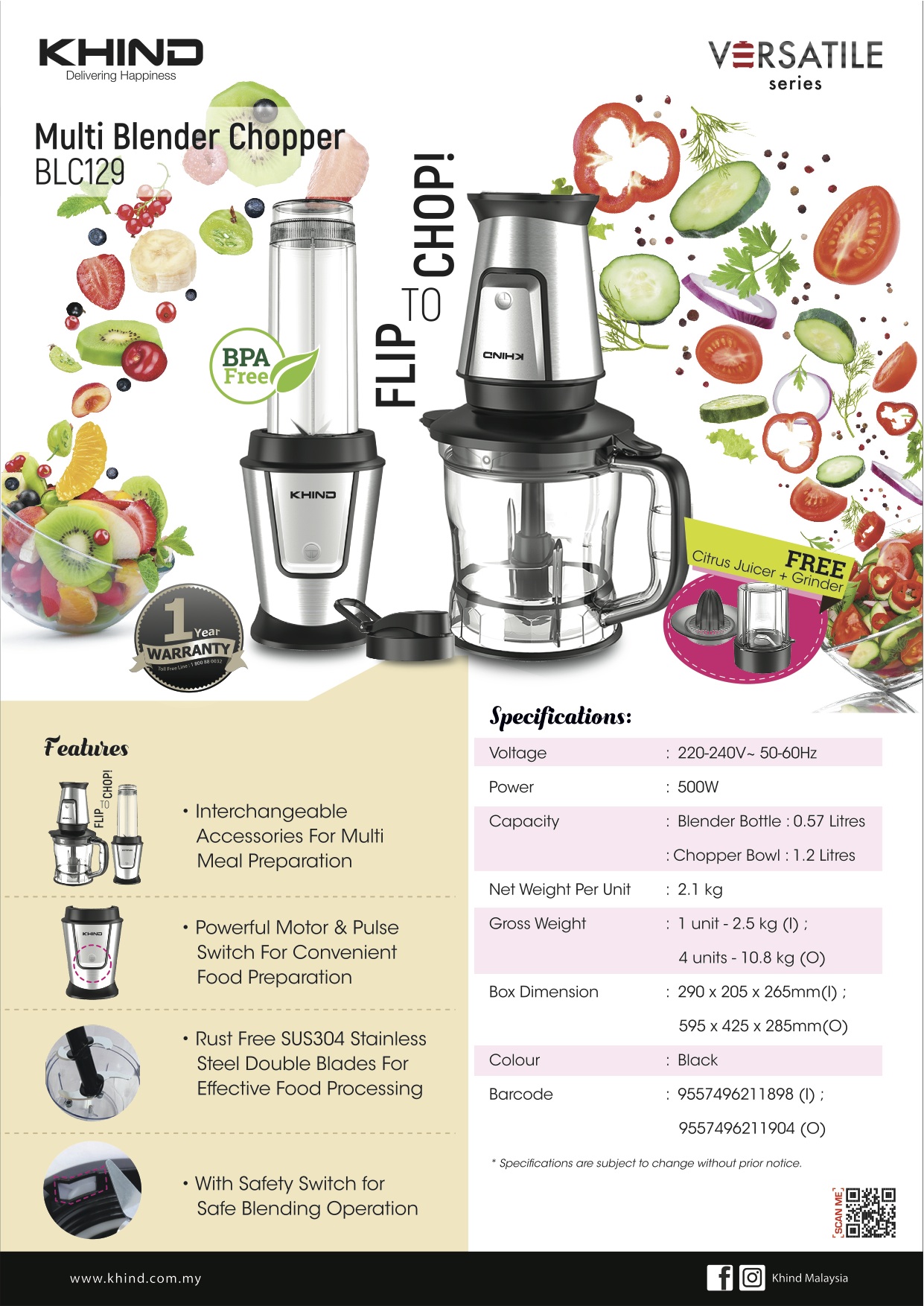 ---
SPECIFICATIONS
Voltage: 220-240V ~ 50-60Hz
Power: 500W
Capacity: Blender Bottle: 0.57 Litres, Chopper Bowl: 1.2 Litres
Accessories: Citrus Juicer, Grinder
Net Weigh: 2.1kg
Gross Weight: 2.5kg
Box Dimension: 290 x 205 x 265mm
Colour: Black
Warranty : 1 Year
Food Preparation
Food Preparation Categories
Blender
You May Also Like
Member Price: RM269.00
RCP: RM338.00
Member Price: RM169.00
RCP: RM199.00
Member Price: RM82.00
RCP: RM132.00
Member Price: RM59.00
RCP: RM69.00