Delonghi Alicia Plus Electric Moka Pot (6-Cups) | EMKM6.B
Delonghi Alicia Plus Electric Moka Pot (6-Cups) | EMKM6.B
Member Price: RM349.00
RCP: RM399.00
Brand:
DELONGHI
Product Code:
EMKM6.B
Availability:
In Stock
Product Enquiry
FEATURES
A compact way to get your daily shot, the DeLonghi Alicia Electric Moka espresso maker satisfies the dueling needs for convenience and caffeine. Because it is outfitted with a cool-touch base, the Alicia goes anywhere you can plug it in. The sturdy aluminum boiler is built for frequent use, and the container is transparent to let you track the brewing progress. The boiler automatically shuts off to prevent overheating and keeps your coffee warm for up to 30 minutes. The Alicia also automatically switches off when you remove the coffee-maker from the base. Additional helpful features include an indicator light, a cool-touch handle, and a swiveling base and the Alicia churns out 3 to 6 cups of espresso.
Automatic shut-off when coffee is ready
Keep-warm function to keep your coffee hot for 30 minutes, coffee doesn't boil over
Transparent coffee container and lid to monitor the traditional Italian style coffee brewing
Brew 6 or 3 cups of coffee, depending on your prefereces.
---
OVERVIEW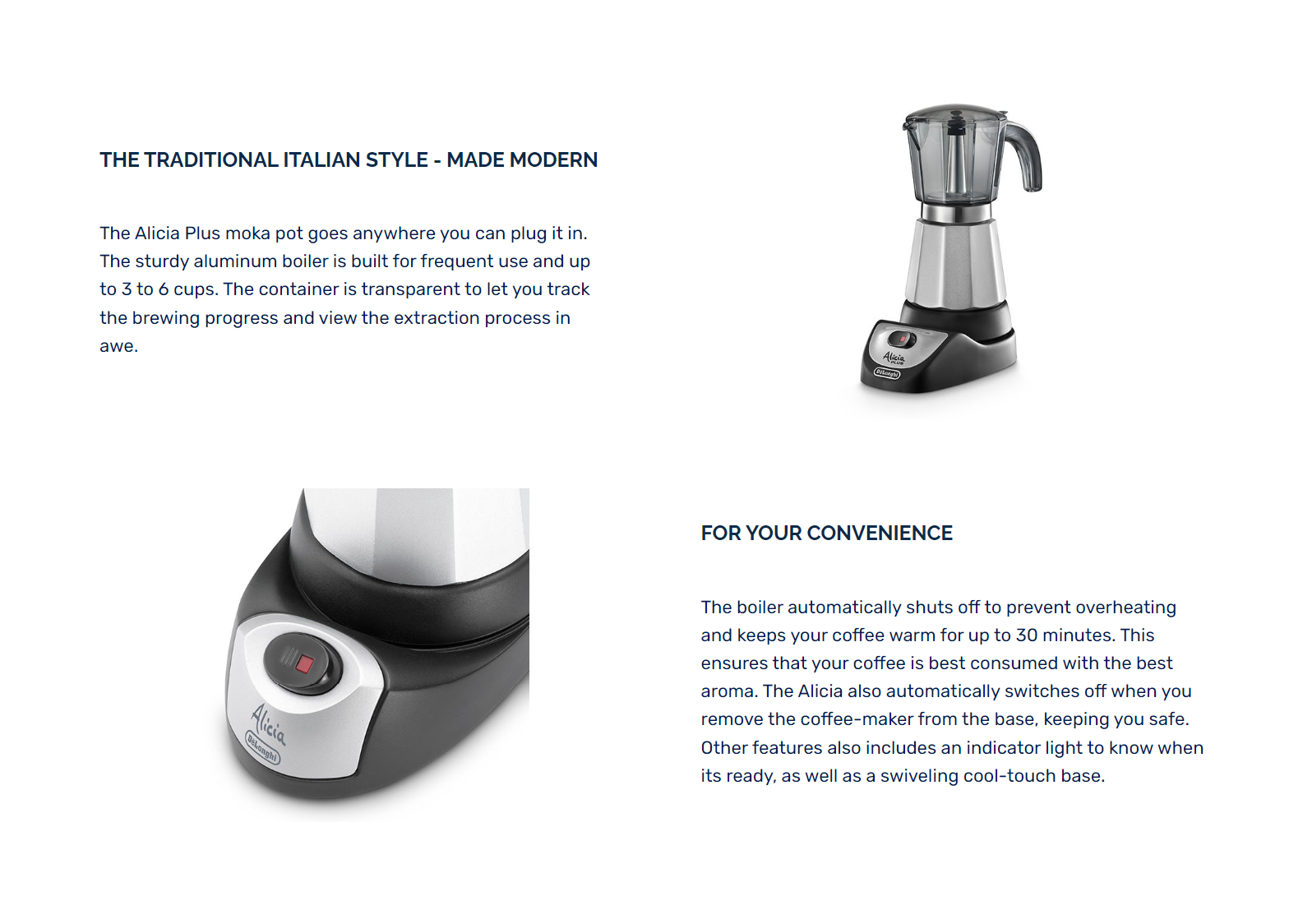 ---
SPECIFICATIONS
Voltage: 220-240V
Frequency: 50/60HZ
Power: 450W
Capacity: 0.6L
Cups: 3-6
Autoshut OFF: 30 Minutes
Auto Keep Warm
Brewing Time: Adjustable
Brewing Type: Perculator
Material: Painted stainless steel body with matt finished
Actual Product
Measurement: 122(L) x 185(W) x 235(H) (mm)
Weight: 0.835 kgs
Gift Box
Measurement: (L) x (W) x (H) (mm)
Weight: kgs
BREAKFAST APPLIANCES
Breakfast Categories
Coffee Maker
You May Also Like
Member Price: RM96.00
RCP: RM136.00
Member Price: RM159.00
RCP: RM219.00
Member Price: RM89.00
RCP: RM135.00
Member Price: RM589.00
RCP: RM699.00