Delonghi Maestosa Fully Automatic Coffee Machine with App Control | EPAM960.75.GLM
Delonghi Maestosa Fully Automatic Coffee Machine with App Control | EPAM960.75.GLM
Member Price: RM17,599.00
RCP: RM20,000.00
Brand:
DELONGHI
Product Code:
EPAM960.75.GLM
Availability:
Pre-Order
Product Enquiry
FEATURES
22 Preset Recipes – From top-class espressos to cappuccinos, hot chocolate and even cold coffee and latte, which are easily selected with one touch.
19 Bar Pump Pressure – The pressure is regulate automatically when brewing different recipes in order to produce a perfect, creamy aromatic coffee with a balanced body.
Touch Display – 5 inch color TFT touch display. Can be tilted into two positions for improved viewing angle.
Two Independent Heating System – Thermoblock for coffee that always ensure extraction temperature in between 88c ~ 96c. While a separate boiler produce perfect frothing temperature while speed up the warm-up phase.
Twin Burr Grinders with Adaptive Grinding – Not only freshly ground, it enable the user to select different bean origin for different recipes. While the electronic grinding control allows the preferred grinding settings be set according to each user profile.
Dual Preparation LatteCrema System – First of its kind to dispense two milk drinks simultaneously.
---
OVERVIEW
EMBARK ON YOUR MAESTOSA JOURNEY
Receive your Maestosa coffee machine at your doorstep, completed with personalised VIP service, welcome gift bundle and on-site calibration by our coffee expert to ensure a seamless coffee experience.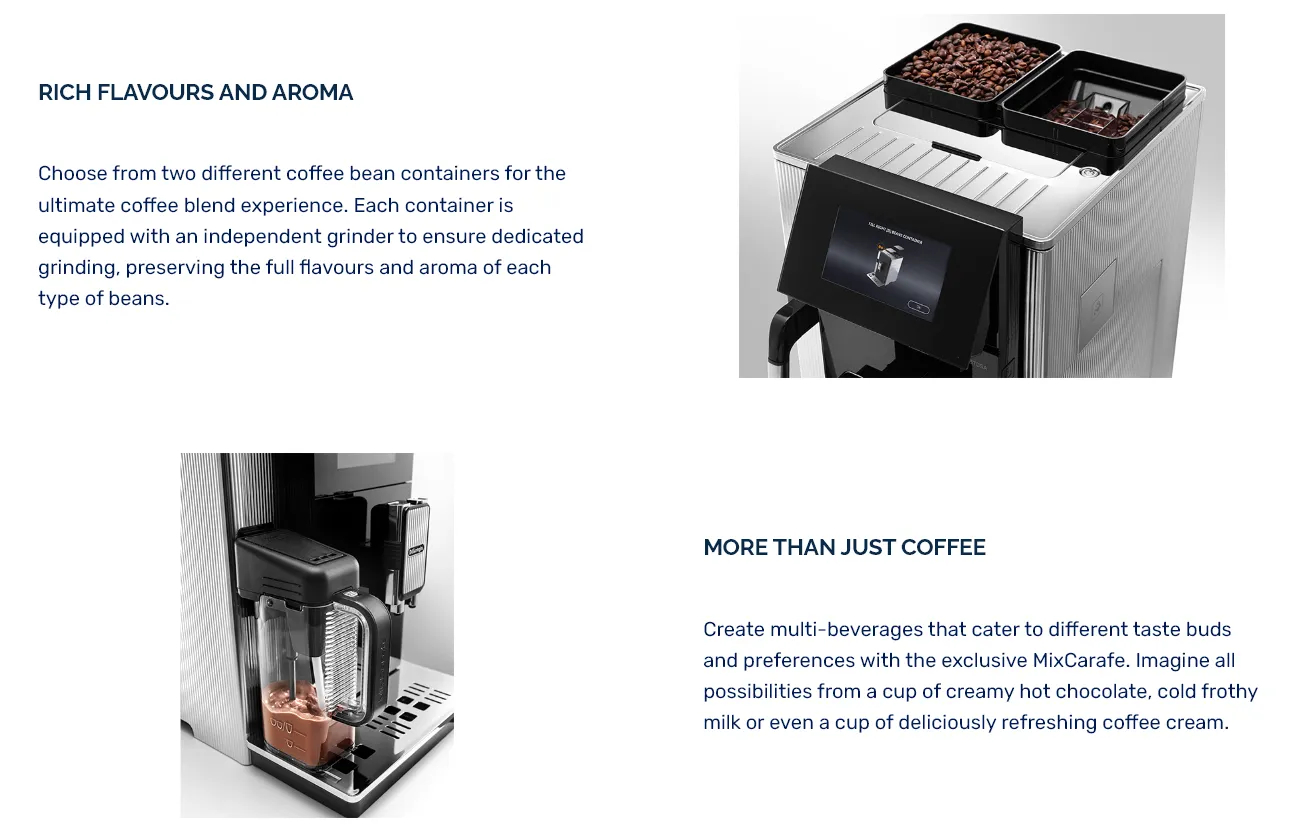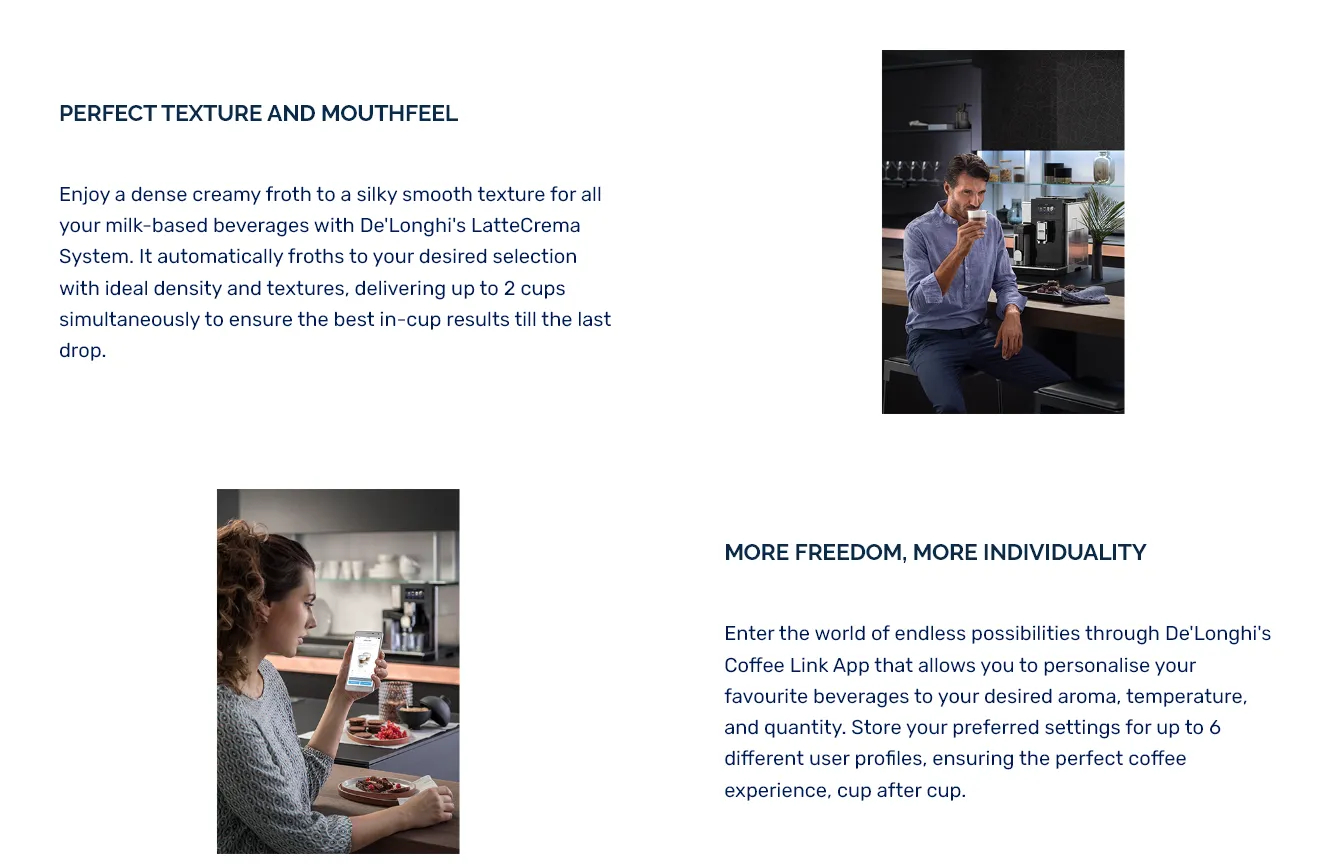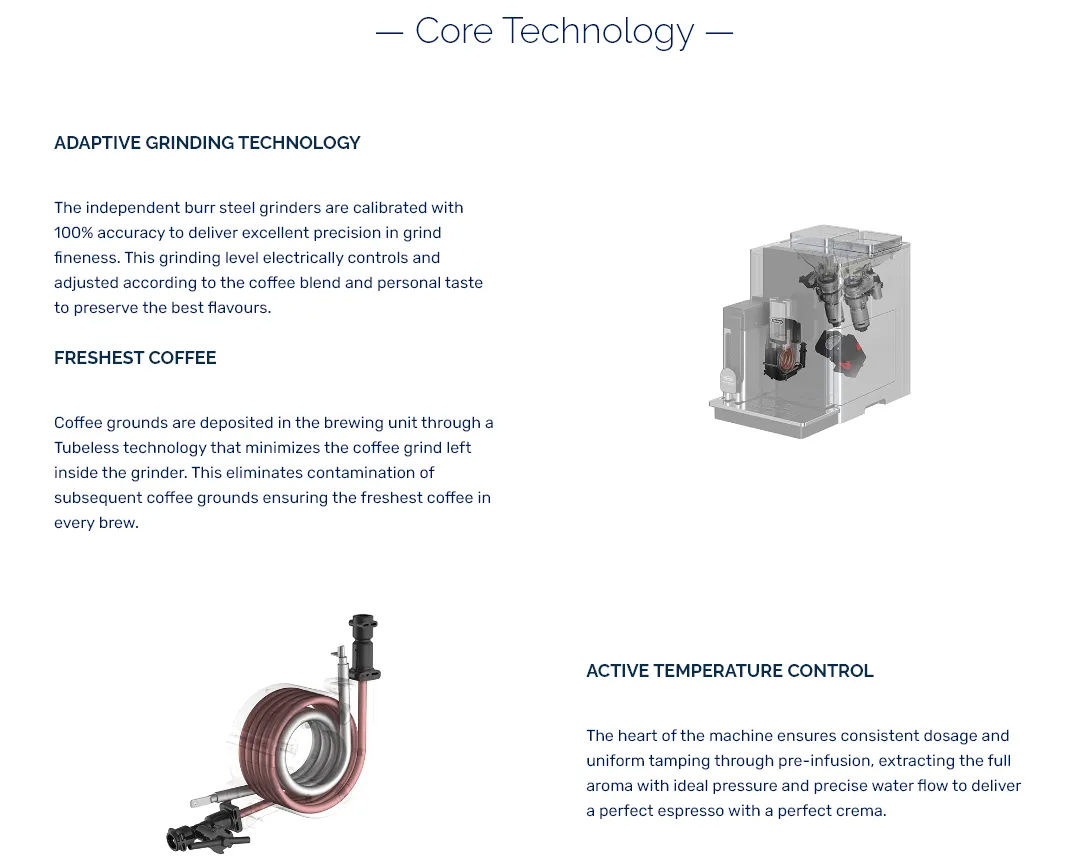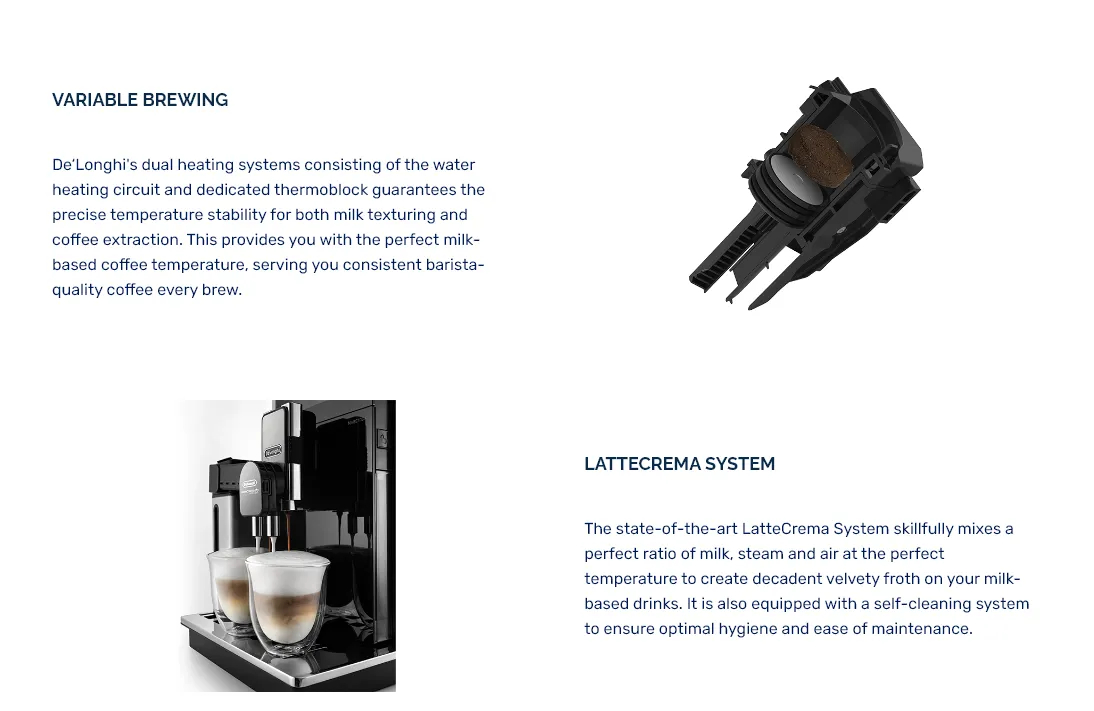 ---
SPECIFICATIONS
Technical Data
Bean hopper capacity (g): 2 X 290
Coffee ground container (g): 14
Dimension (wxdxh): 290x468x405
Energy class: Better than A
Input power (W): 1550
Maximum cup height (mm): 142
Pump pressure (bar): 19
Rated voltage/Frequency (V~Hz): 220/240~50/60
Water container capacity (l): 2.1
Weight (kg): 16.8
Colour Material Finish
Colour: Black
Finishing: Striped Stainless Steel Body, Black Mirrored Glass Front
Functions
Milk recipes: Cappuccino, Latte Macchiato, Cappuccino+, CappuccinoMix, Hot Milk, Caffelatte, Flat White, Espresso Macchiato, Warm milk froth
Coffee recipes: Espresso, Coffee, Long, Doppio+
Other recipes: Hot water for tea and infusions, Chocolate, Cold Coffee, Tea function, Hot water, Steam
Ability to create your own recipes: Yes through App
Advanced personalisation: 6 user profiles
Mobile App: De'Longhi Coffee Link App
Control Panel
Controls: Touch Display
Display: 5" TFT colour
Features
Milk system: Lattecrema System Technology
Cup holder: Zamac
Cup warmer: Yes
Miscellaneous
What's In The Box
x1 Maestosa fully automatic coffee machine
x1 Thermal Milk carafe (Metal case)
x1 MixCarafe
x1 Coffee starter kit (As pictured on the left)
x1 Exclusive Maestosa Welcome gift bundle.
BREAKFAST APPLIANCES
Breakfast Categories
Coffee Maker
You May Also Like
Member Price: RM3,299.00
RCP: RM3,499.00
Member Price: RM3,959.00
RCP: RM4,499.00
Member Price: RM56.00
RCP: RM59.00
Member Price: RM56.00
RCP: RM59.00
Member Price: RM39.00
RCP: RM39.00