Khind 5L Stand Mixer with 6 speeds | SM506P
Khind 5L Stand Mixer with 6 speeds | SM506P
Member Price: RM279.00
RCP: RM499.00
Brand:
KHIND
Product Code:
SM506P
Availability:
In Stock
Product Enquiry
FEATURES
6 Stepless Variable Speed
Planetary mixing action for evenly mixed ingredient
Transparent splash cover &
non-slip rubber foot
Rust free stainless steel SUS304 5L mixing bowl &
Accessories: SUS304 Stainless Steel Bowl, Whisk, Kneader, Mixer, Spatula
---
OVERVIEW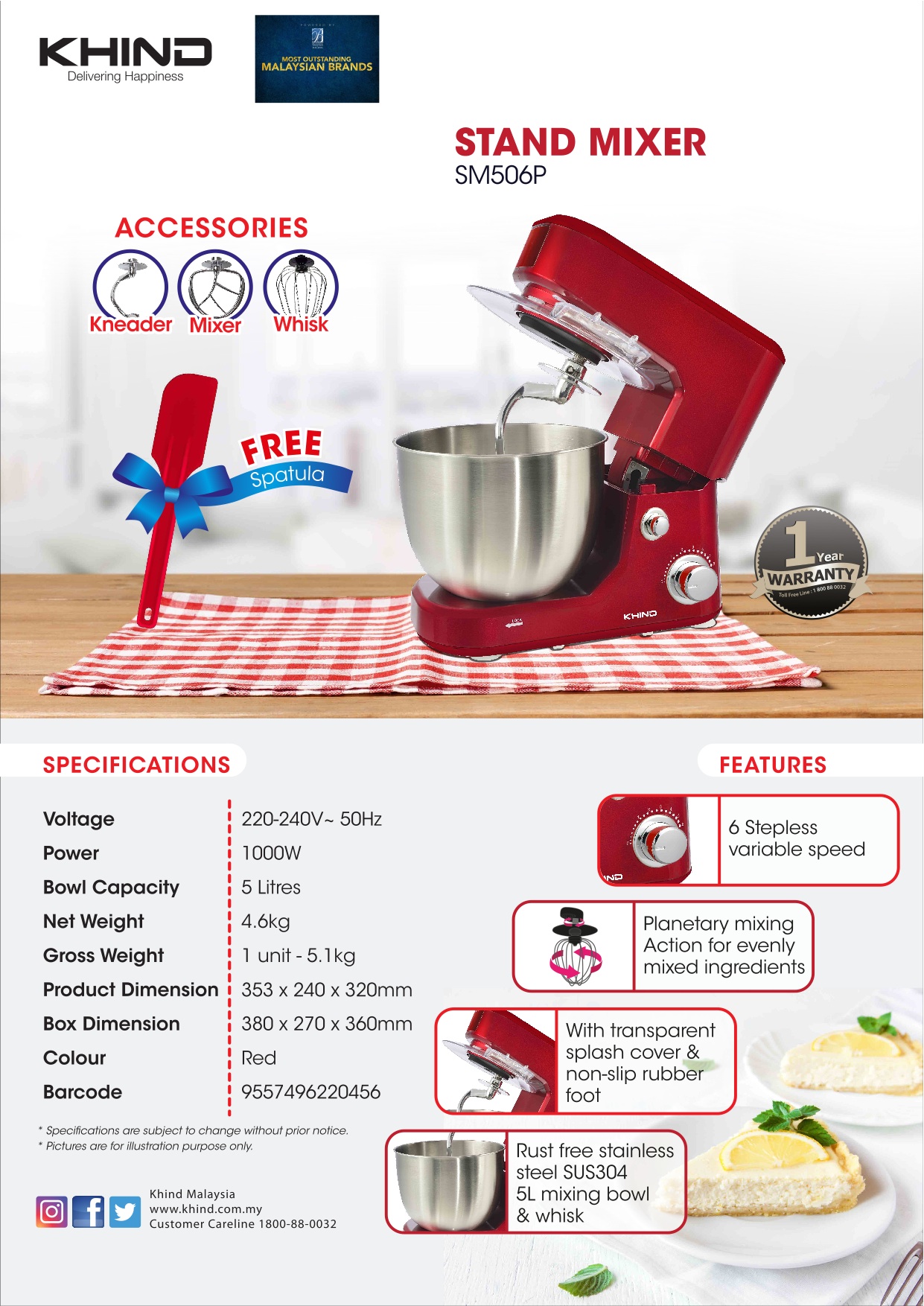 ---
SPECIFICATIONS
Voltage: 220-240V ~ 50Hz
Power: 1000W
Capacity: 5L
Net Weight: 4kg
Gross Weight: 5.1kg
Product Dimension (LxWxH): 353 x 240 x 325 mm
Box Dimension: 380 x 270 x 360 mm
Colour: Red
Warranty: 1 Year
* Specifications are subject to change without prior notice.
---
Q&A
1. Are the attachments made of stainless steel? (Kneading hook,beater,mixing hook/whisk) Dough hook and mixing hook is made up of aluminium alloy while beater is made up of SUS304 Stainless Steel.
2. How long the mixer can beat continuously? The recommended time is 10-12 minutes of mixing and then let it rest for at least 5 minutes before operating back again. If you want to mix it for long time,recommended to do it in a few phases,so that it won't spoil the motor,to ensure longer life span of motor.
3. Is there a thermal fuse for SM506P? There is no thermal fuse.
4. May I know the mixer suitable for 1.8kg dough? For the model SM506P,the recommended dough capacity is 1600g which is 1.6kg because if higher capacity than 1.6kg it might prolonged the knead motor and cause over performed.
5. What's the body material of SM506P? The material of SM506P body is made up of ABS (a type of plastic).
Food Preparation
Food Preparation Categories
Mixer
You May Also Like
Member Price: RM619.00
RCP: RM699.00
Member Price: RM789.00
RCP: RM1,299.00
Member Price: RM268.00
RCP: RM409.00
Member Price: RM3,599.00
RCP: RM3,999.00
Member Price: RM1,659.00
RCP: RM1,899.00