Samsung 23kg Top Load Washer with BubbleStorm™ (2022) | WA23A8377GV/FQ
Samsung 23kg Top Load Washer with BubbleStorm™ (2022) | WA23A8377GV/FQ
Member Price: RM2,999.00
RCP: RM3,699.00
Brand:
SAMSUNG
Product Code:
WA23A8377GV/FQ
Availability:
In Stock
Product Enquiry
FEATURES
BubbleStorm -Wash faster and more efficiently with BubbleStorm
Hygiene Steam - Give laundry an intensive and hygienic clean with hot water and steam
Digital Inverter Technology - Save 40% energy and enjoy effective cleanining with Digital Inverter Technology
Heavy Duty+
Magic Filter
VRT Technology
Eco Tub Clean
Smart Check
Soft Closing Door
WiFi Connect
SmartThings App Support
---
OVERVIEW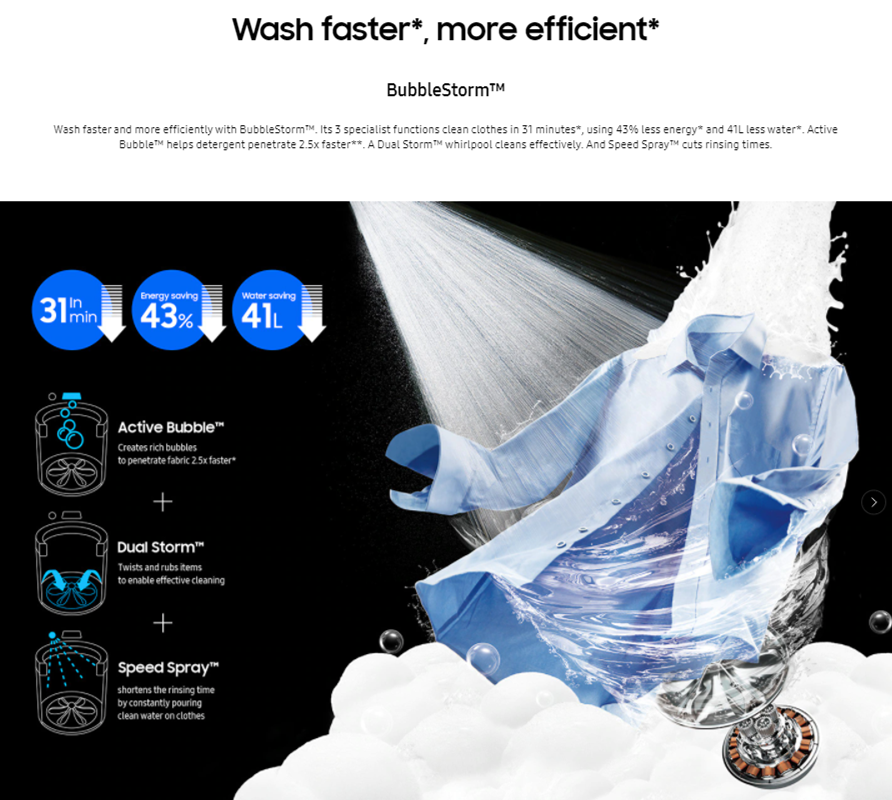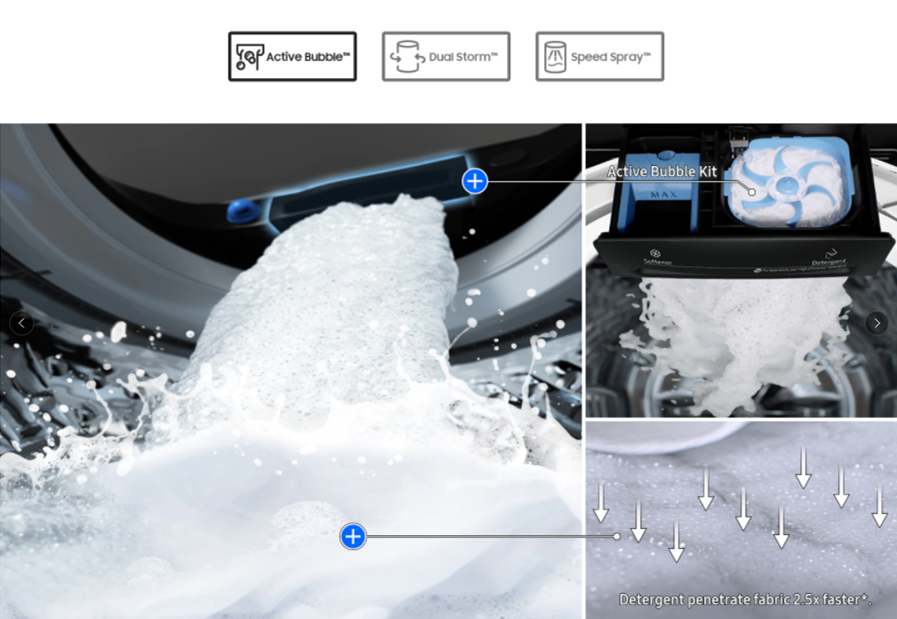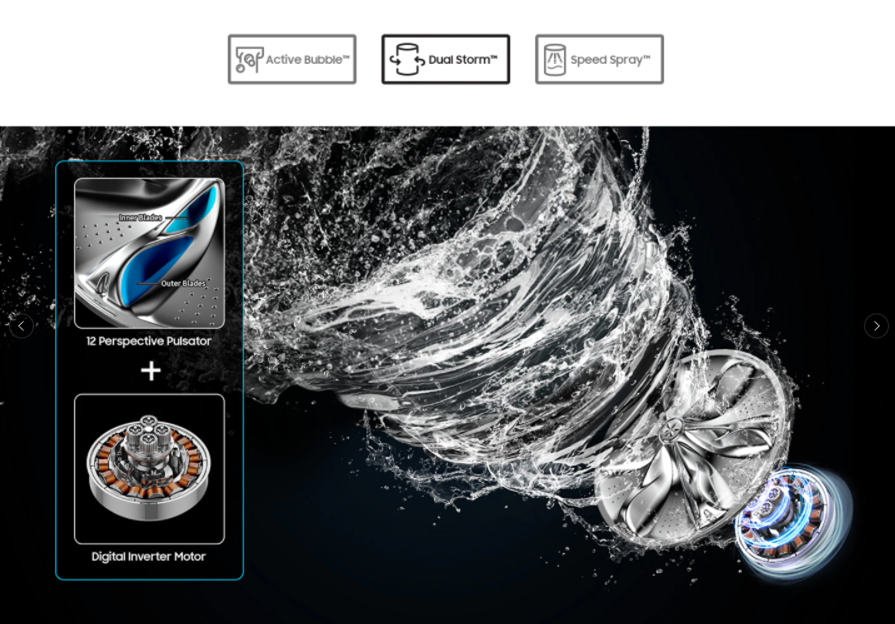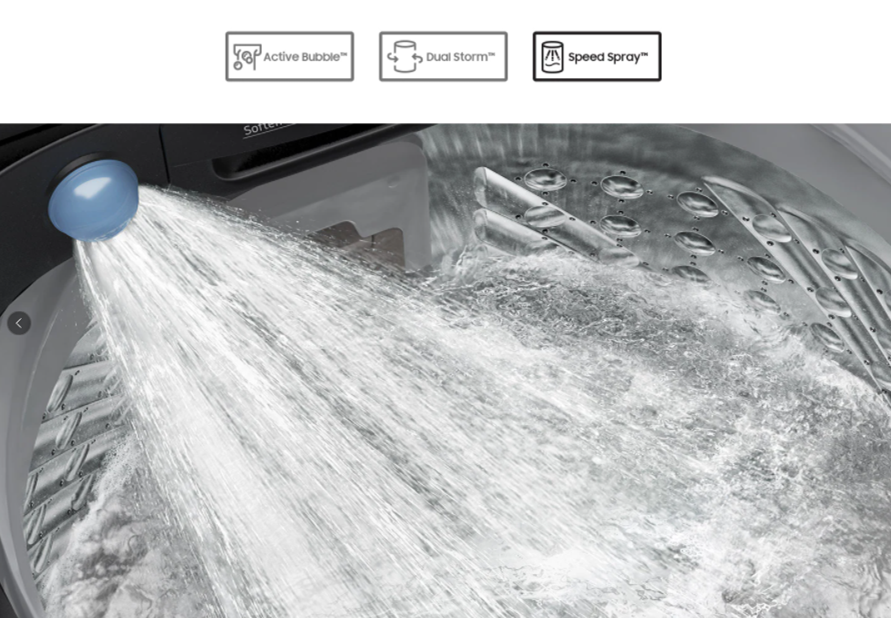 40% Less Energy* & Less noise*
Digital Inverter Technology
Enjoy greater energy efficiency, less noise and a long-lasting performance. Digital Inverter Technology uses strong magnets for a quieter and more powerful performance, but consumes less energy*. It provides outstanding durability**, backed-up by a 11 year warranty.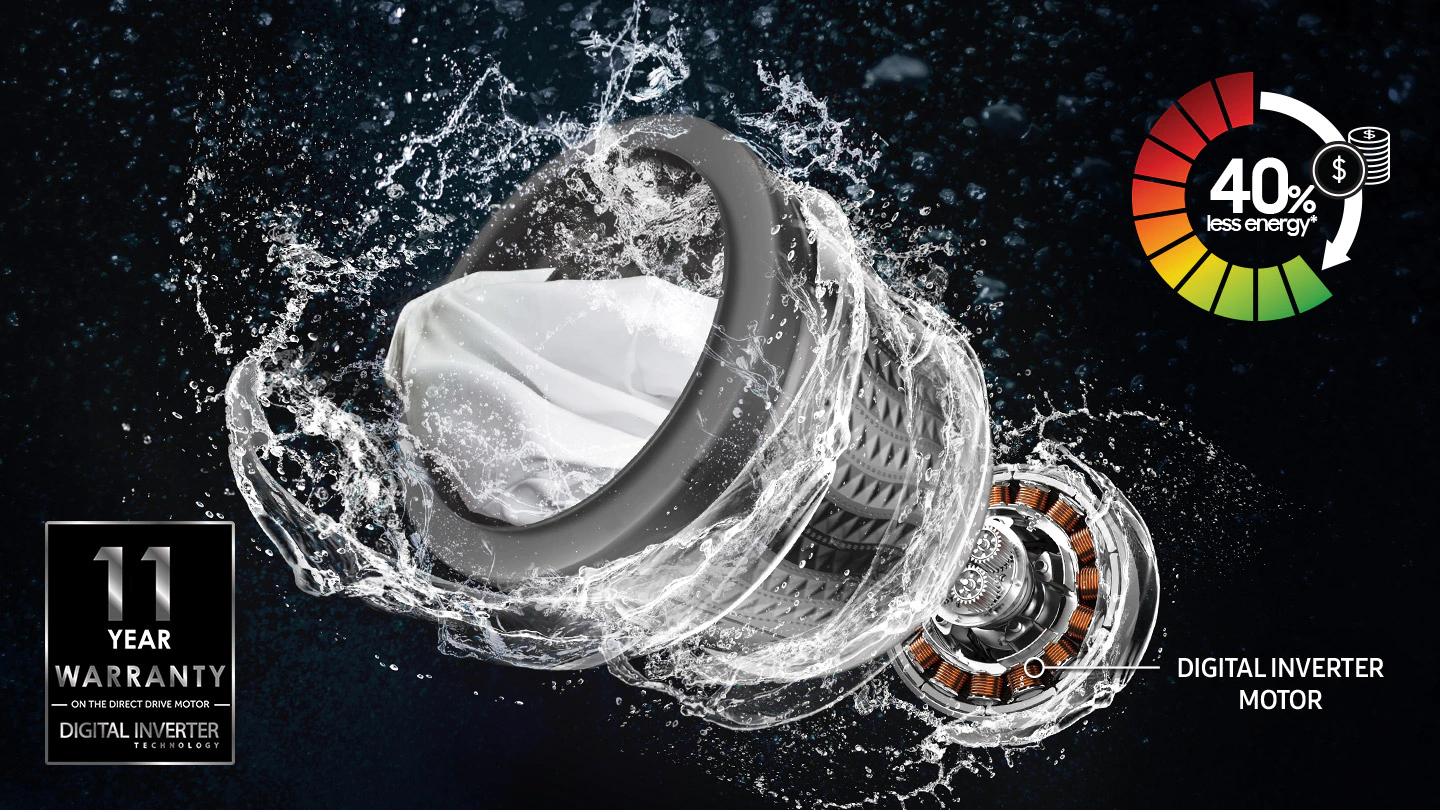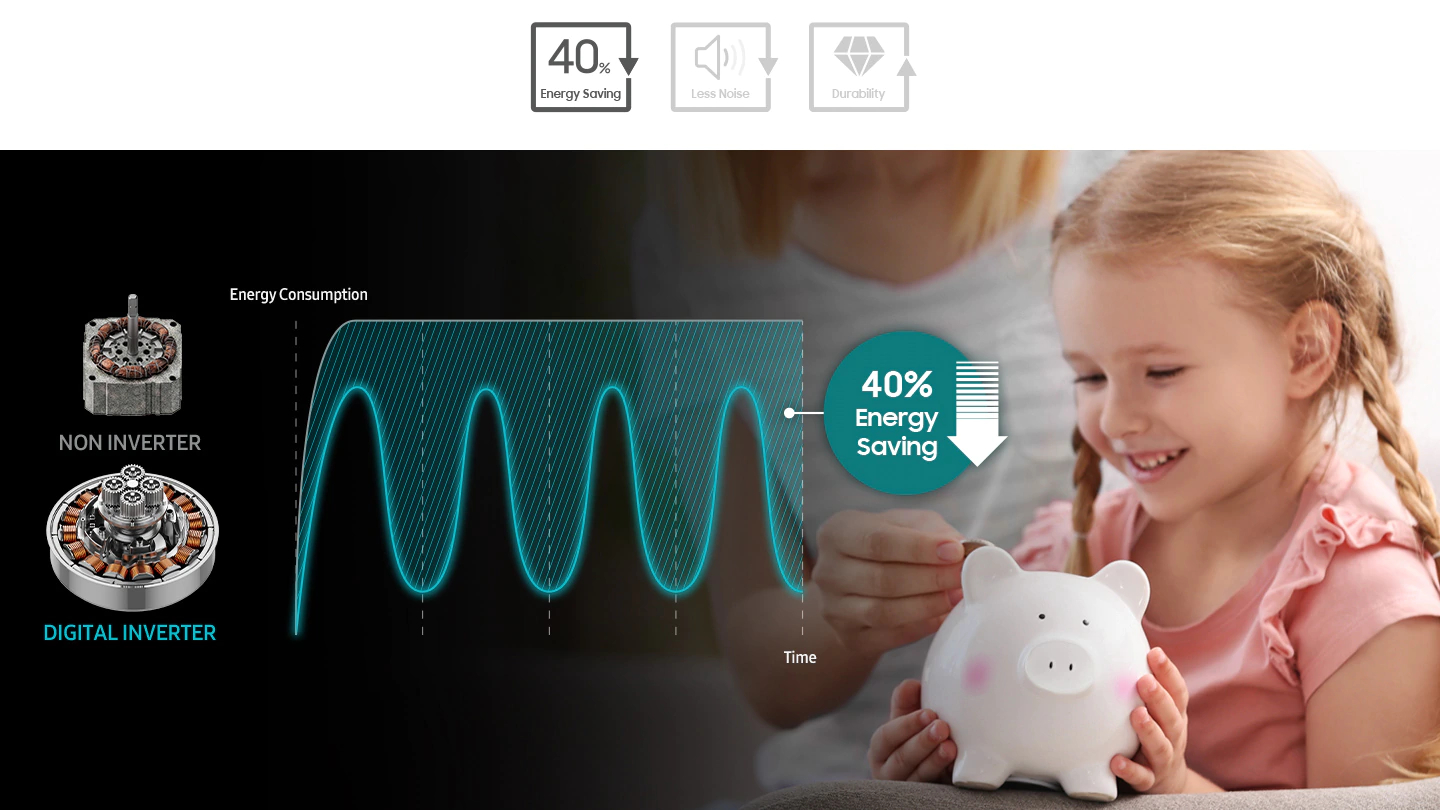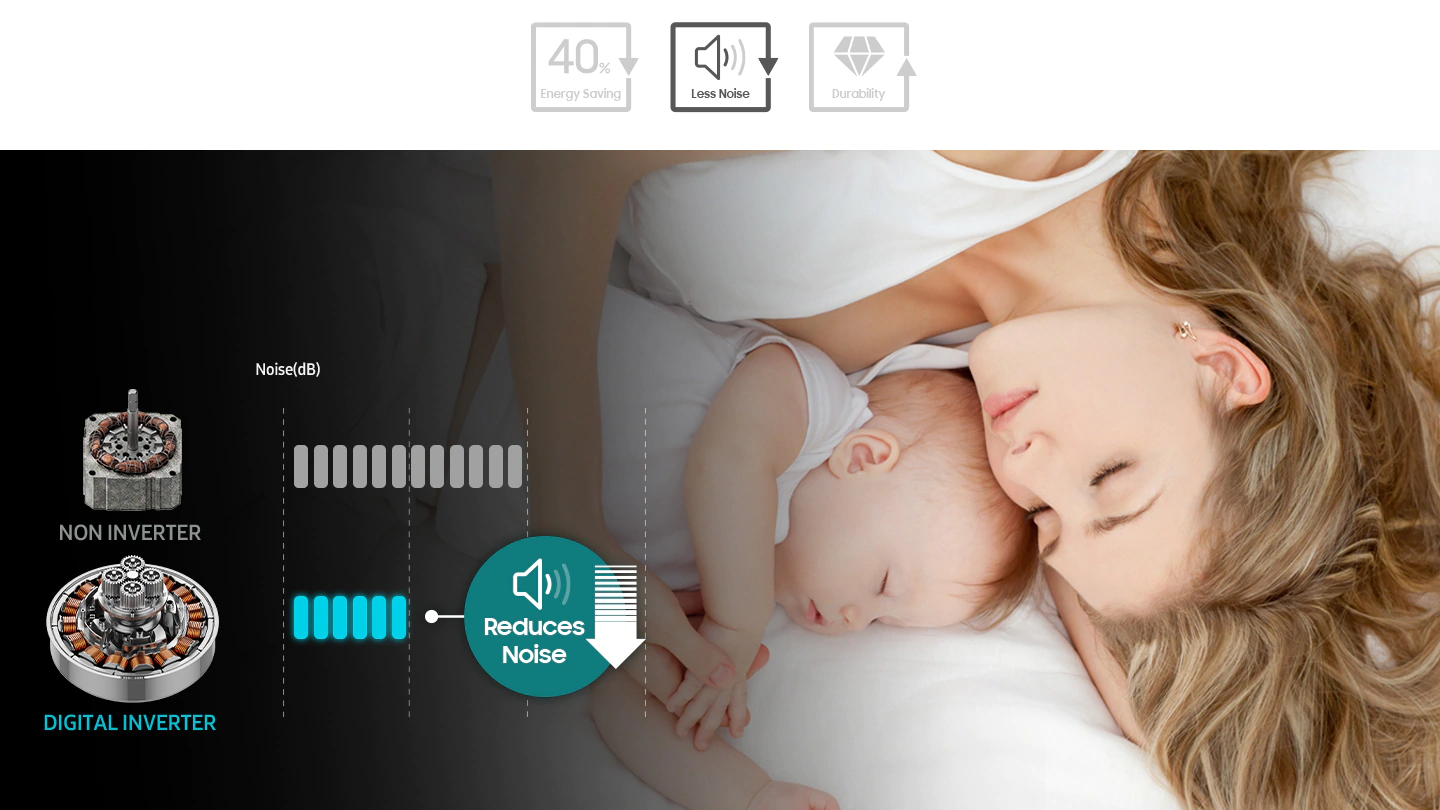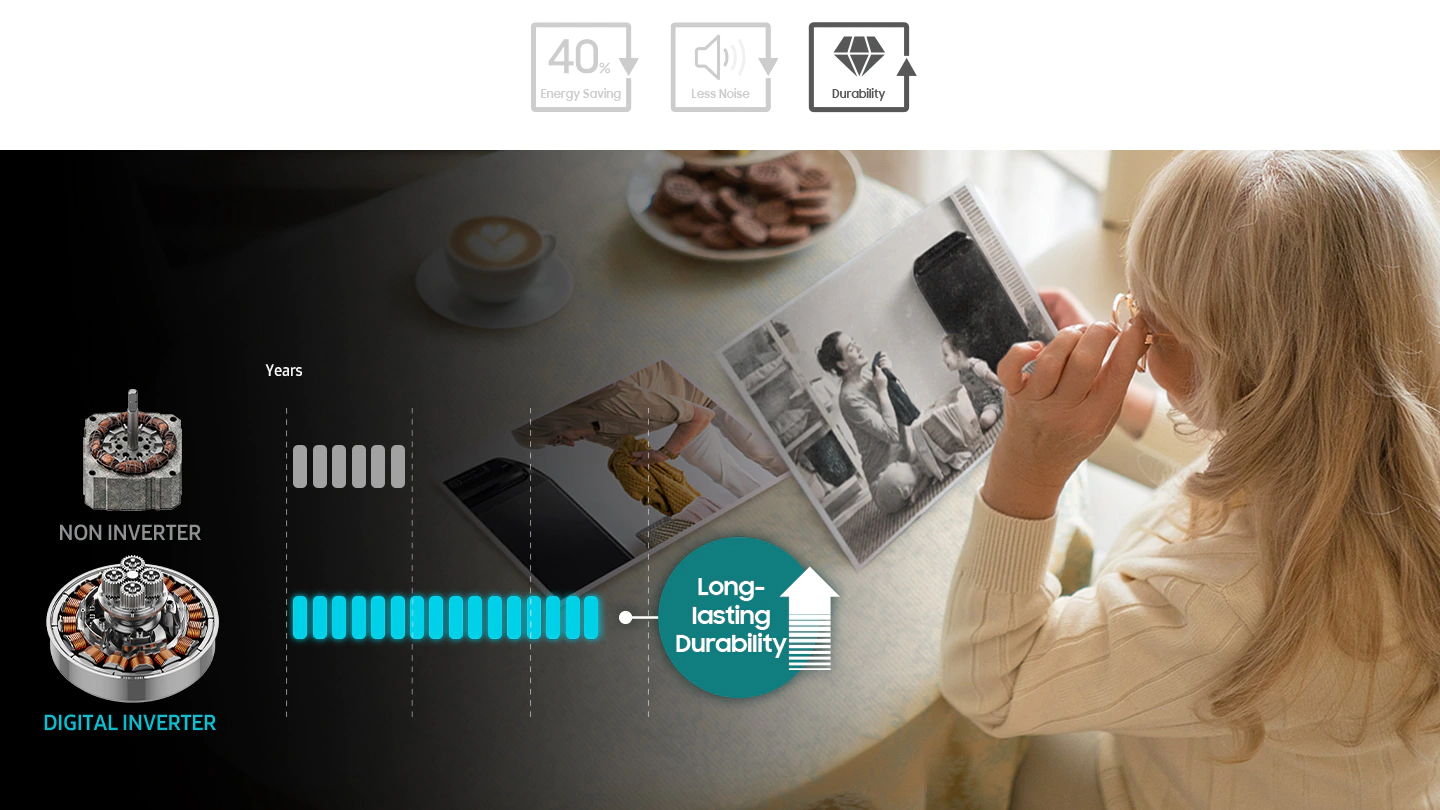 *Based on inverter data, compared with Samsung conventional model.
99.9% Sanitizes clothes**
Hygiene Steam
Give laundry an intensive and hygienic clean with hot water and steam. The Hygiene Steam cycle* washes as 60°C to sanitize clothes, eliminate 99.9% of bacteria** and remove stubborn and oily stains***. Or you can adjust the temperature to 40°C to clean everyday marks and soiling, like sweat.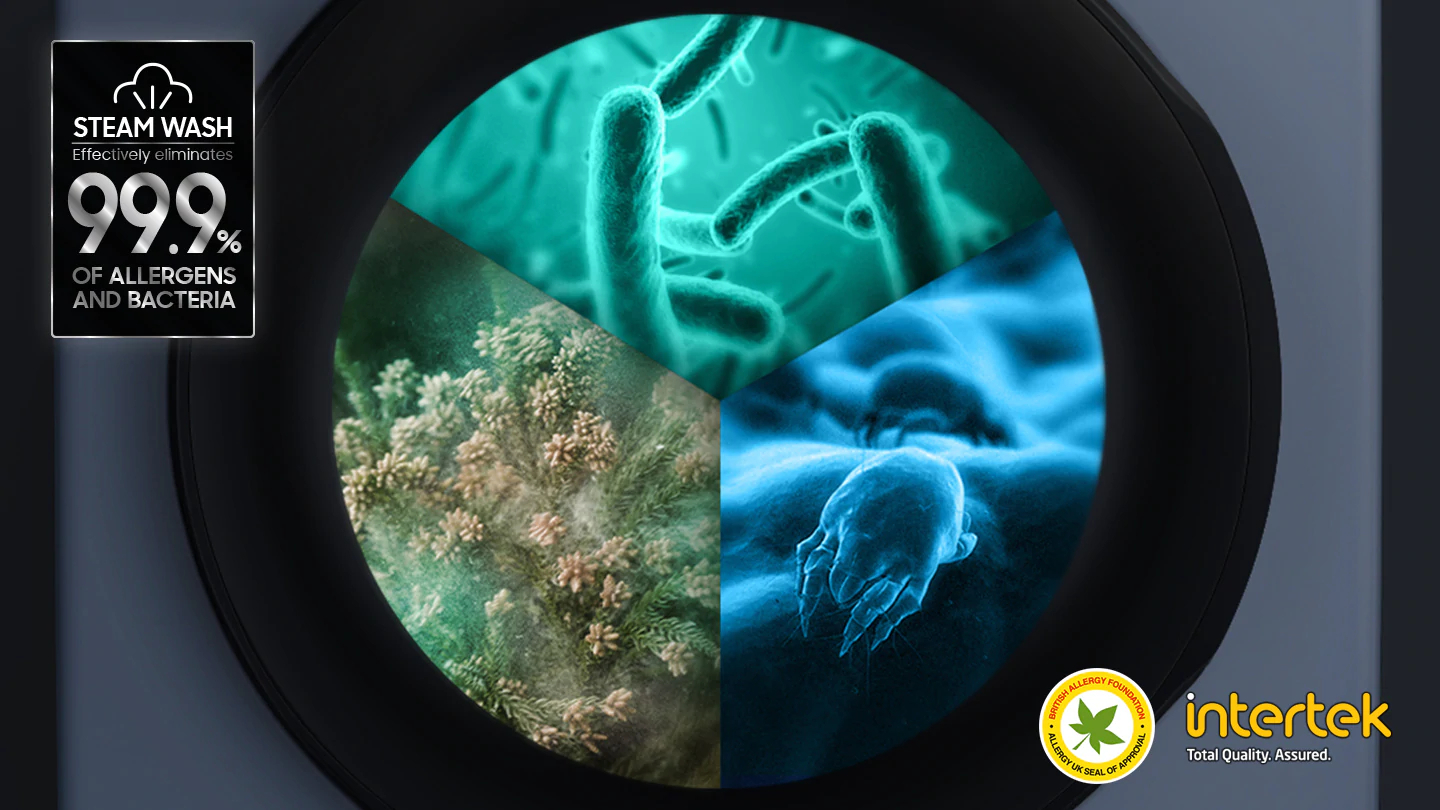 * Available when washing laundry loads up to 5kg.** Based on the Intertek test report for the Hygiene Steam course. Removes 99.9% of certain bacteria, including Staphylococcus aureus and Escherichia coli. Individual results may vary.*** Based on internal testing. The optimal temperature may vary depending on the type and condition of the dirt and stains.
Fast and efficient
Heavy Duty+
Enjoy highly concentrated detergent washing with the Heavy Duty+ cycle. It automatically starts washing using 20% more concentrated detergent for an intensive cleaning action. So it reduces the washing time by 21 minutes* and energy consumption by 11%*, but has the same washing performance.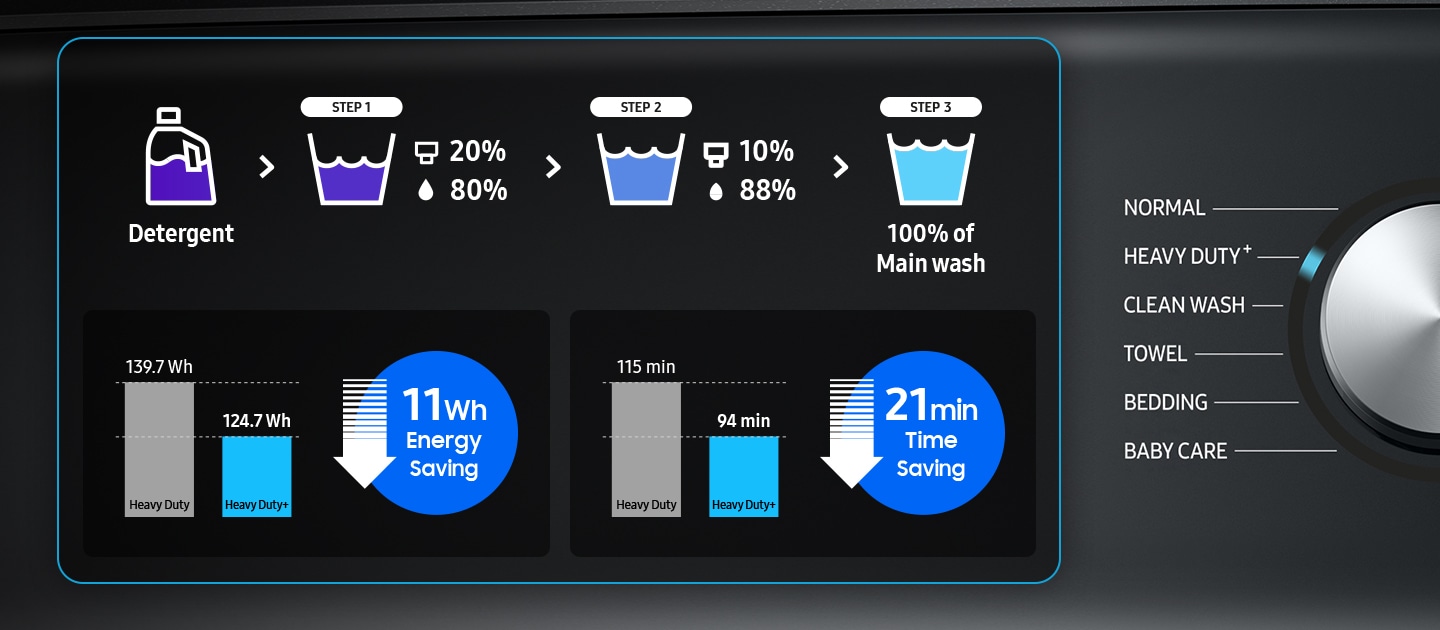 * Based on internal testing, using an IEC 5kg load (water level 6) in accordance with a national standard test, compared to a Samsung conventional washing machine, WA22T7870KV. Results may vary depending on the actual usage conditions.
Powerful filtration
Magic Filter
Magic Filter effectively traps the lint, fluff and particles that come out of your clothes. The new design has larger filter sizes, and it's also easy to clean by simply detaching and washing.
Peaceful washing
VRT Technology
Do your laundry anytime without creating a disturbance – even at night. Innovative Vibration Reduction Technology® (VRT) reduces noise and vibration during washes*. It keeps the tub balanced even at high spin speeds, regardless of load size. So there's less risk of disturbing anyone.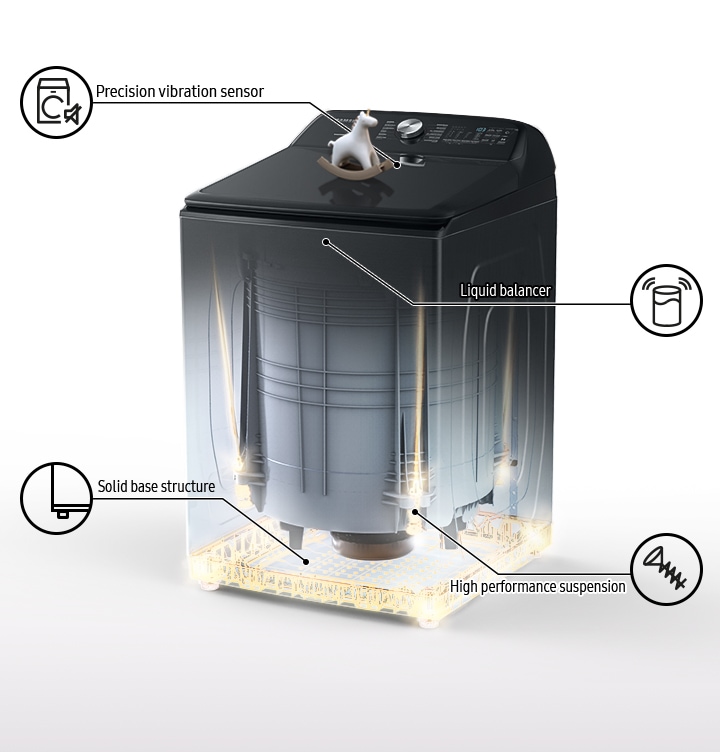 * Based on internal testing compared to a Samsung conventional model without VRT Technology.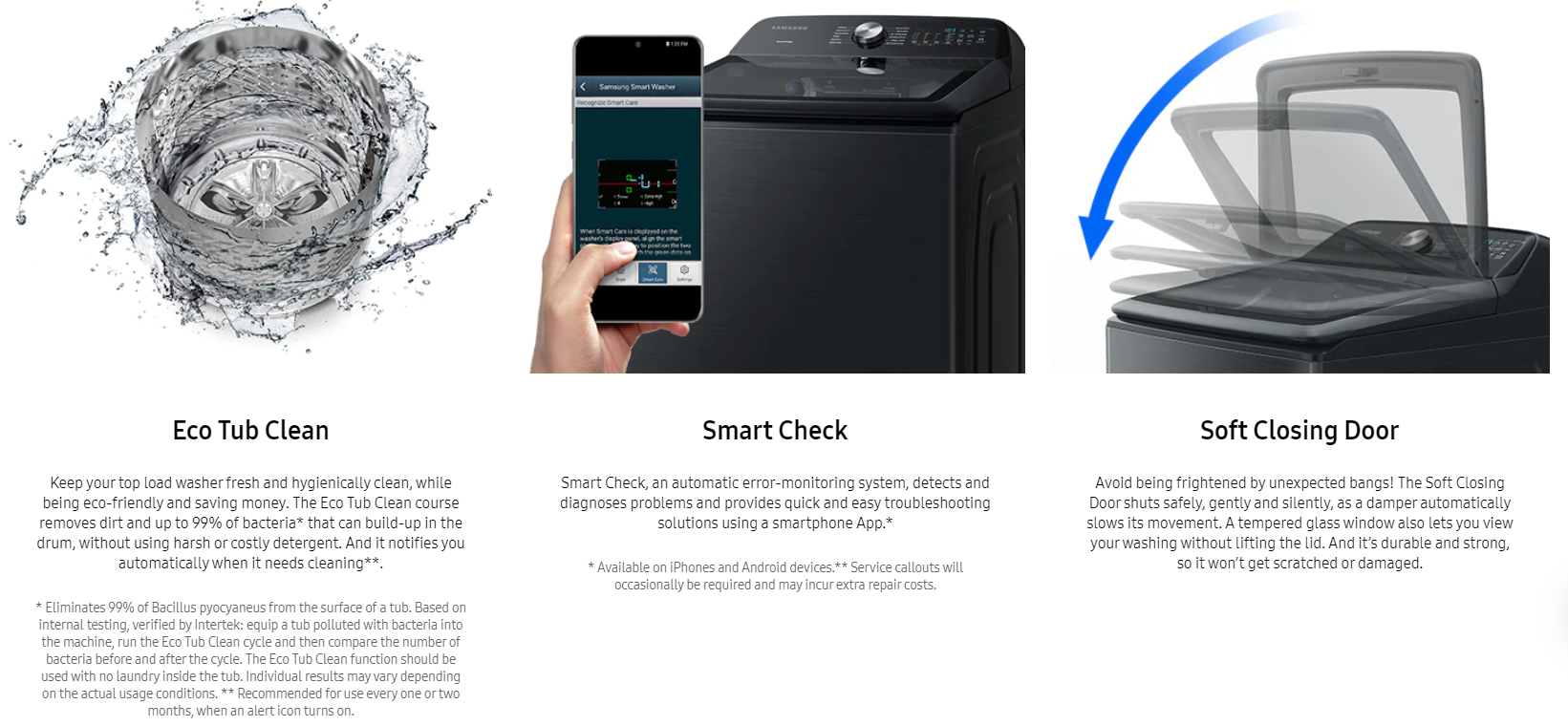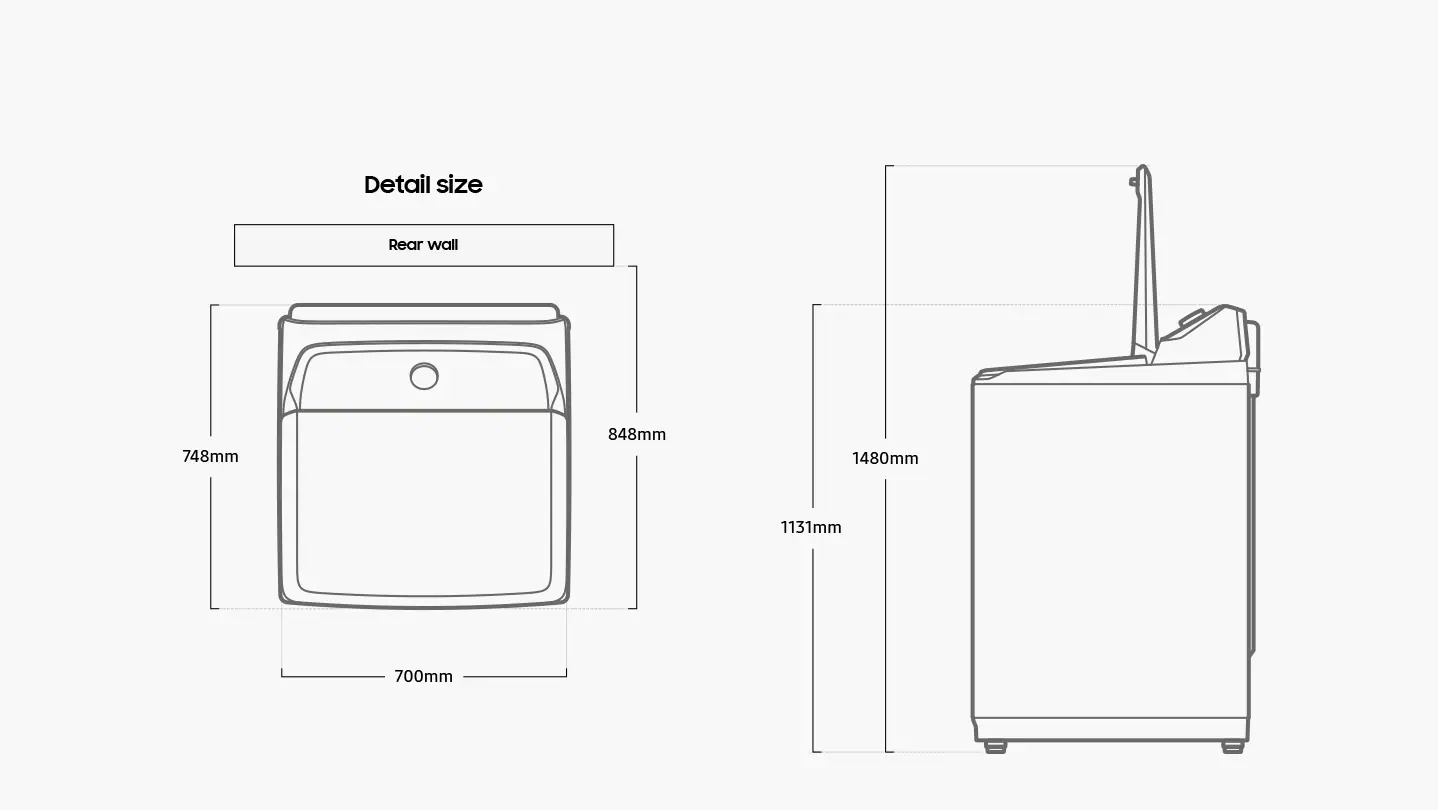 ---
SPECIFICATIONS
Washing Capacity
Washing Capacity (kg) – 23.0 kg
Design
Body color – Black Caviar
Door – Wide Tempered Glass
Feature
BubbleStorm™: Yes
Active Bubble™: Yes
SpeedSpray™: Yes
Dual Storm™: Yes
Hygiene Steam: Yes
Air Turbo: Yes
Child Lock: Yes
Delay End: Yes
Door Lock: Yes
Drum type: Swirl drum
Magic Filter: Yes
Mist Shower: Yes
Motor: Digital Inverter Technology
Pulsator: STS Dual Storm™
Spin Speed: 700 rpm
Smart Control: Yes
Smart Check: Yes
Soft Close Lid: Yes
Tempered Glass Window: Yes
Water Level: 10 Levels
Cycle
Heavy Duty+: Yes
Clean Wash: Yes
Towel: Yes
40℃ Stain Wash: Yes
Hygiene Steam: Yes
Baby Care: Yes
Bedding: Yes
Delicates: Yes
Eco Tub Clean: Yes
Normal: Yes
Option List: Water Level, Wash Time, Rinse Times, Spin Speed, Air Turbo, Speed Spray, Delay End, Smart Control, Alarm Off, Soak
Quick Wash: Yes
Rinse + Spin: Yes
Physical specification
Net Dimension (WxHxD) – 700 x 1,131 x 748 mm
Net Weight – 61 kg
Smart
App Connectivity
SmartThings App Support: Yes
W/MACHINE
Laundry
Top Load Washer
WASHING TYPE
Fully Auto
You May Also Like
Member Price: RM5,399.00
RCP: RM6,899.00
Member Price: RM2,099.00
RCP: RM3,099.00
Member Price: RM2,399.00
RCP: RM3,499.00